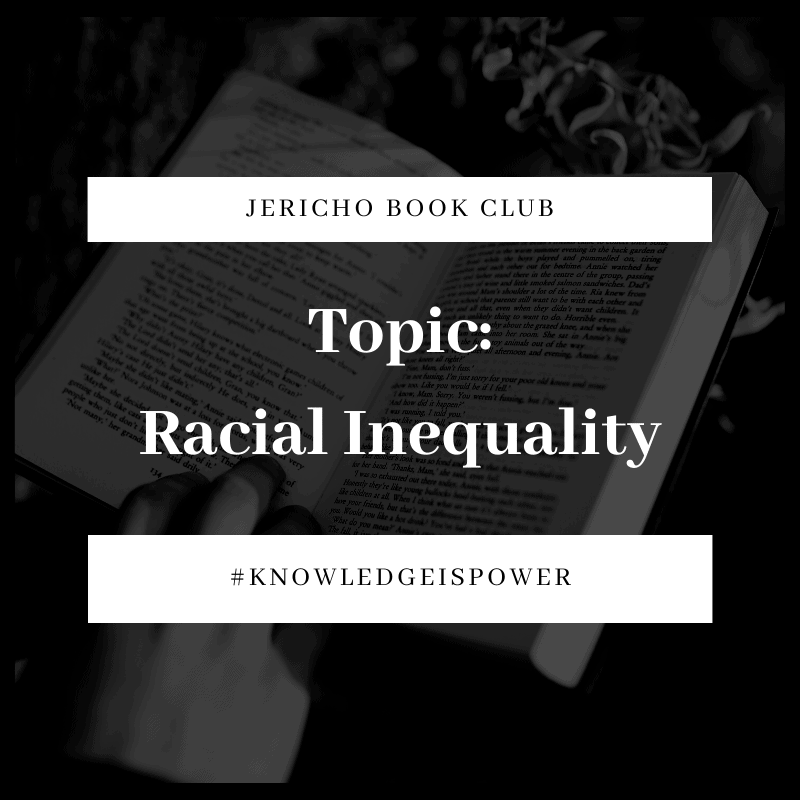 To help to continue to educate our community about racial inequality, this week's reading list consists of some fundamental books — many of which are part of the Brooklyn Public Library's Black Lives Matter reading list for adults — that illuminate the struggles faced by people of color today. We have also included a list of Black-Owned bookstores to buy from and support. We at Jericho Project provide this list in hopes that our community continues to read and educate themselves on these topics because the fight for equality for all is an ongoing process that requires all of us to be collectively involved and responsible, and it all starts with understanding. #Knowledgeispower
Seldom does a book have the impact of Michelle Alexander's The New Jim Crow. Since it was first published in 2010, it has been cited in judicial decisions and has been adopted in campus-wide and community-wide reads; it helped inspire the creation of the Marshall Project and the new $100 million Art for Justice Fund; it has been the winner of numerous prizes, including the prestigious NAACP Image Award; and it has spent nearly 250 weeks on the New York Times bestseller list.
Most important of all, it has spawned a whole generation of criminal justice reform activists and organizations motivated by Michelle Alexander's unforgettable argument that "we have not ended racial caste in America; we have merely redesigned it." As the Birmingham News proclaimed, it is "undoubtedly the most important book published in this century about the U.S."
Now, ten years after it was first published, The New Press is proud to issue a tenth-anniversary edition with a new preface by Michelle Alexander that discusses the impact the book has had and the state of the criminal justice reform movement today.
The New York Times best-selling book exploring the counterproductive reactions white people have when their assumptions about race are challenged, and how these reactions maintain racial inequality.
In this "vital, necessary, and beautiful book" (Michael Eric Dyson), antiracist educator Robin DiAngelo deftly illuminates the phenomenon of white fragility and "allows us to understand racism as a practice not restricted to 'bad people' (Claudia Rankine). Referring to the defensive moves that white people make when challenged racially, white fragility is characterized by emotions such as anger, fear, and guilt, and by behaviors including argumentation and silence. These behaviors, in turn, function to reinstate white racial equilibrium and prevent any meaningful cross-racial dialogue. In this in-depth exploration, DiAngelo examines how white fragility develops, how it protects racial inequality, and what we can do to engage more constructively.
#1 NEW YORK TIMES BESTSELLER • NATIONAL BOOK AWARD WINNER • NAMED ONE OF TIME'S TEN BEST NONFICTION BOOKS OF THE DECADE • PULITZER PRIZE FINALIST • NATIONAL BOOK CRITICS CIRCLE AWARD FINALIST
 
Hailed by Toni Morrison as "required reading," a bold and personal literary exploration of America's racial history by "the most important essayist in a generation and a writer who changed the national political conversation about race" (Rolling Stone)
 
NAMED ONE OF THE MOST INFLUENTIAL BOOKS OF THE DECADE BY CNN • NAMED ONE OF PASTE'S BEST MEMOIRS OF THE DECADE • NAMED ONE OF THE TEN BEST BOOKS OF THE YEAR BY The New York Times Book Review • O: The Oprah Magazine • The Washington Post • People • Entertainment Weekly • Vogue • Los Angeles Times • San Francisco Chronicle • Chicago Tribune • New York • Newsday • Library Journal • Publishers Weekly
In a profound work that pivots from the biggest questions about American history and ideals to the most intimate concerns of a father for his son, Ta-Nehisi Coates offers a powerful new framework for understanding our nation's history and current crisis. Americans have built an empire on the idea of "race," a falsehood that damages us all but falls most heavily on the bodies of black women and men—bodies exploited through slavery and segregation, and, today, threatened, locked up, and murdered out of all proportion. What is it like to inhabit a black body and find a way to live within it? And how can we all honestly reckon with this fraught history and free ourselves from its burden?
Between the World and Me is Ta-Nehisi Coates's attempt to answer these questions in a letter to his adolescent son. Coates shares with his son—and readers—the story of his awakening to the truth about his place in the world through a series of revelatory experiences, from Howard University to Civil War battlefields, from the South Side of Chicago to Paris, from his childhood home to the living rooms of mothers whose children's lives were taken as American plunder. Beautifully woven from personal narrative, reimagined history, and fresh, emotionally charged reportage, Between the World and Me clearly illuminates the past, bracingly confronts our present, and offers a transcendent vision for a way forward.
A distinguished psychiatrist from Martinique who took part in the Algerian Nationalist Movement, Frantz Fanon was one of the most important theorists of revolutionary struggle, colonialism, and racial difference in history. Fanon's masterwork is a classic alongside Edward Said's Orientalism or The Autobiography of Malcolm X, and it is now available in a new translation that updates its language for a new generation of readers. The Wretched of the Earth is a brilliant analysis of the psychology of the colonized and their path to liberation. Bearing singular insight into the rage and frustration of colonized peoples, and the role of violence in effecting historical change, the book incisively attacks the twin perils of postindependence colonial politics: the disenfranchisement of the masses by the elites on the one hand, and intertribal and interfaith animosities on the other. Fanon's analysis, a veritable handbook of social reorganization for leaders of emerging nations, has been reflected all too clearly in the corruption and violence that has plagued present-day Africa. The Wretched of the Earth has had a major impact on civil rights, anticolonialism, and black consciousness movements around the world, and this bold new translation by Richard Philcox reaffirms it as a landmark.
THE INSTANT NEW YORK TIMES BESTSELLER.
New York Times Editor's Pick.
Library Journal Best Books of 2019.
TIME Magazine's "Best Memoirs of 2018 So Far."
O, Oprah's Magazine's "10 Titles to Pick Up Now."
Politics & Current Events 2018 O.W.L. Book Awards Winner
The Root Best of 2018

"This remarkable book reveals what inspired Patrisse's visionary and courageous activism and forces us to face the consequence of the choices our nation made when we criminalized a generation. This book is a must-read for all of us." – Michelle Alexander, New York Times bestselling author of The New Jim Crow
A poetic and powerful memoir about what it means to be a Black woman in America―and the co-founding of a movement that demands justice for all in the land of the free.
Raised by a single mother in an impoverished neighborhood in Los Angeles, Patrisse Khan-Cullors experienced firsthand the prejudice and persecution Black Americans endure at the hands of law enforcement. For Patrisse, the most vulnerable people in the country are Black people. Deliberately and ruthlessly targeted by a criminal justice system serving a white privilege agenda, Black people are subjected to unjustifiable racial profiling and police brutality. In 2013, when Trayvon Martin's killer went free, Patrisse's outrage led her to co-found Black Lives Matter with Alicia Garza and Opal Tometi.
Condemned as terrorists and as a threat to America, these loving women founded a hashtag that birthed the movement to demand accountability from the authorities who continually turn a blind eye to the injustices inflicted upon people of Black and Brown skin.
Championing human rights in the face of violent racism, Patrisse is a survivor. She transformed her personal pain into political power, giving voice to a people suffering inequality and a movement fueled by her strength and love to tell the country―and the world―that Black Lives Matter.
When They Call You a Terrorist is Patrisse Khan-Cullors and asha bandele's reflection on humanity. It is an empowering account of survival, strength and resilience and a call to action to change the culture that declares innocent Black life expendable.
A surprise New York Times bestseller, these groundbreaking essays and poems about race—collected by National Book Award winner Jesmyn Ward and written by the most important voices of her generation—are "thoughtful, searing, and at times, hopeful. The Fire This Time is vivid proof that words are important, because of their power to both cleanse and to clarify" (USA TODAY).
In this bestselling, widely lauded collection, Jesmyn Ward gathers our most original thinkers and writers to speak on contemporary racism and race, including Carol Anderson, Jericho Brown, Edwidge Danticat, Kevin Young, Claudia Rankine, and Honoree Jeffers. "An absolutely indispensable anthology" (Booklist, starred review), The Fire This Time shines a light on the darkest corners of our history, wrestles with our current predicament, and imagines a better future.
Envisioned as a response to The Fire Next Time, James Baldwin's groundbreaking 1963 essay collection, these contemporary writers reflect on the past, present, and future of race in America. We've made significant progress in the fifty-odd years since Baldwin's essays were published, but America is a long and painful distance away from a "post-racial society"—a truth we must confront if we are to continue to work towards change. Baldwin's "fire next time" is now upon us, and it needs to be talked about; The Fire This Time "seeks to place the shock of our own times into historical context and, most importantly, to move these times forward" (Vogue).
From a powerful new voice on racial justice, an eye-opening account of growing up Black, Christian, and female in middle-class white America. 
Austin Channing Brown's first encounter with a racialized America came at age 7, when she discovered her parents named her Austin to deceive future employers into thinking she was a white man. Growing up in majority-white schools, organizations, and churches, Austin writes, "I had to learn what it means to love blackness," a journey that led to a lifetime spent navigating America's racial divide as a writer, speaker and expert who helps organizations practice genuine inclusion.
In a time when nearly all institutions (schools, churches, universities, businesses) claim to value "diversity" in their mission statements, I'm Still Here is a powerful account of how and why our actions so often fall short of our words. Austin writes in breathtaking detail about her journey to self-worth and the pitfalls that kill our attempts at racial justice, in stories that bear witness to the complexity of America's social fabric–from Black Cleveland neighborhoods to private schools in the middle-class suburbs, from prison walls to the boardrooms at majority-white organizations.
For readers who have engaged with America's legacy on race through the writing of Ta-Nehisi Coates and Michael Eric Dyson, I'm Still Here is an illuminating look at how white, middle-class, Evangelicalism has participated in an era of rising racial hostility, inviting the reader to confront apathy, recognize God's ongoing work in the world, and discover how blackness–if we let it–can save us all.
---
Black-Owned Bookstores to support (New York Focused)
Becoming Gods Answer Bookstore
Mood Makers Books & Art Gallery Village Gate Square
Schomburg Center for Research Into Black Culture