An Evening of Inspiration and Hope:
Jericho Project Celebrates Tori Lyon's 25 Years of Leadership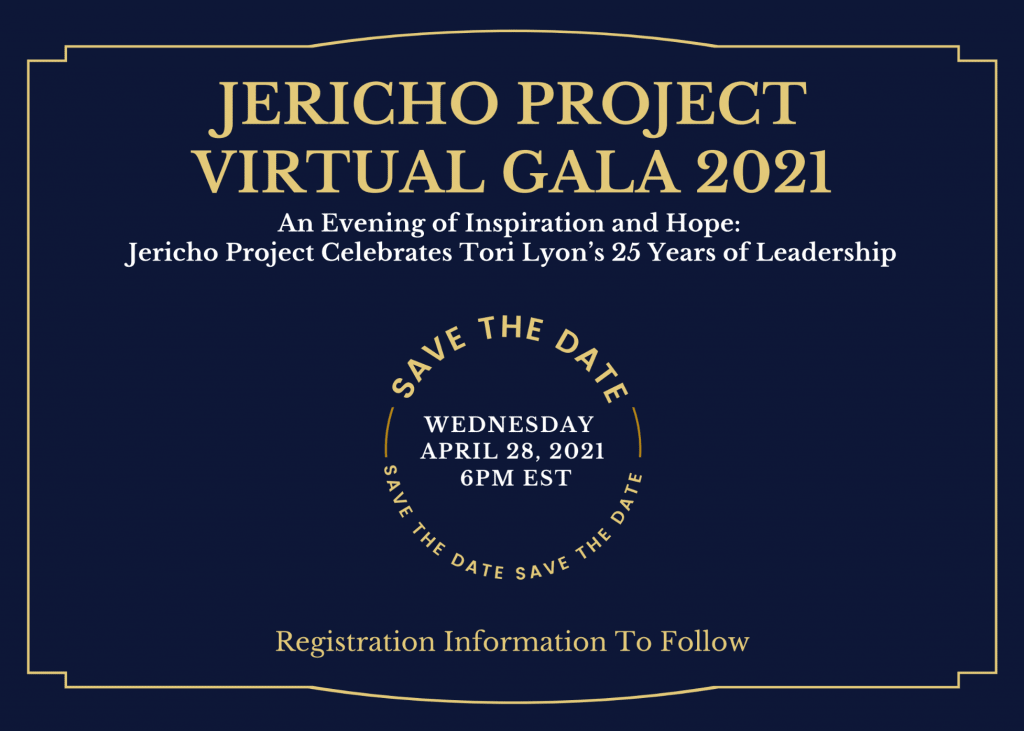 Jericho Project's Virtual Gala honoring CEO Tori Lyon's 25 Years of Leadership raised over $230,000 towards supporting housing and employment and wellness services. View the program, emceed by NBC 4 New York's Natalie Pasquarella, with testimonials, comedy and a Broadway rendition of Rent, HERE
Meet Our Sponsors!




Alan Lyon
Amie Gross Architects
Anastasia Vournas
Andrea Cuvelier
Artec Construction and Development Corp.
Borah Goldstein
Bright Power
Bruno and Mary Ann Quinson
Cara Eisen
Cheever Development
Chris Stern Hyman
Cognitive Therapy For Women Ps
Colin Campbell
Dawn Trachtenberg
Deborah C. Van Eck
Devine Partners, LLC
Drake/Anderson
Edward & Helen Hintz
EP Engineering
Geltrude & Company, LLC
Jerome Menifee
Jennifer Reingold
Joel Cohen
Julie Therese Wroble
Karen B. Adam
Karen Manheimer
Karen Wharton
Karin and Paul Kingsley
Kristen & Michael Reed Family Foundation
Louis and Blair Rosenfeld
Marjorie Stein
Mark Kopinski
Mimi Boublik
Nathalie Rubens
Reverend Jay Holland Gordon
Richman Housing Resources LLC
Robert Levy
Samantha Moore
Sarina Gwirtzman
Simon Bound
Stephen Penwell
The Hudson Companies, Inc.
The Signature B&B Companies
Wells Fargo
Wohabe Law Offices LLP
Guest Speaker Announcement
We are excited to announce that we secured Natalie Pasquarella as our Virtual Gala Emcee! Natalie anchors NBC 4 New York's 4 p.m., 6 p.m. and 11 p.m. daily newscasts. She also contributes to I-Team investigations throughout the Tri-State area. Keep an eye out for our next guest speaker announcement!
After a four and a half year run in Disney's hit Aladdin, Nathan is appearing as Andrew Morton and in the Ensemble of the brand new musical DIANA. A B.F.A. Musical Theatre graduate from Penn State University, Nathan has worked in the entertainment business for the past ten years. Breakout shows include Rogers and Hammerstein's Cinderella, A Chorus Line, The Man of La Mancha, and The Last Word. Alongside his theatrical success, Nathan recently released his debut album "Nathan Lucrezio Covers Vol. 1" next to two Christmas Singles and the popular Waving Through a Window Medley. He is a Champion Irish Dancer, and has appeared in popular television shows such as SMASH, and First Wives Club. Favorite concert venues to perform at are Feinstein's 54 Below, and Broadway at W.
We will also have a gut-wrenching stand-up comedy set by Usama Siddiquee a Bengali-American stand-up comedian and actor based in New York. He most recently was featured on the 2020 season of America's Got Talent. He traveled to Montreal as one of the New Faces at Just For Laughs in 2018. Shortly after he was passed at the world famous Comedy Cellar in New York. He made his standup television debut on BET's 50 Central. He has been featured on Showtime's Desus and Mero, MTV's News, and Bravo's Cash Cab. He was a finalist for the 2017 NY's Funniest Competition at Caroline's; a finalist in the 2017 NBC Standup Competition; 1st place winner of the 2016 Laughing Devil Cup Comedy Festival in New York; the 1st place winner of the 2015 Yonkers Comedy Festival as well as the 1st place winner of the 2015 Make Me Laugh Albany Comedy Festival. Usama has also featured on videos for NBC, Buzzfeed, Refinery29, The Scene, Mic.com, FusionTV, and Huffington Post.
Follow us on Instagram for more updates on the event including the raffle winners!