Celebrate! 2022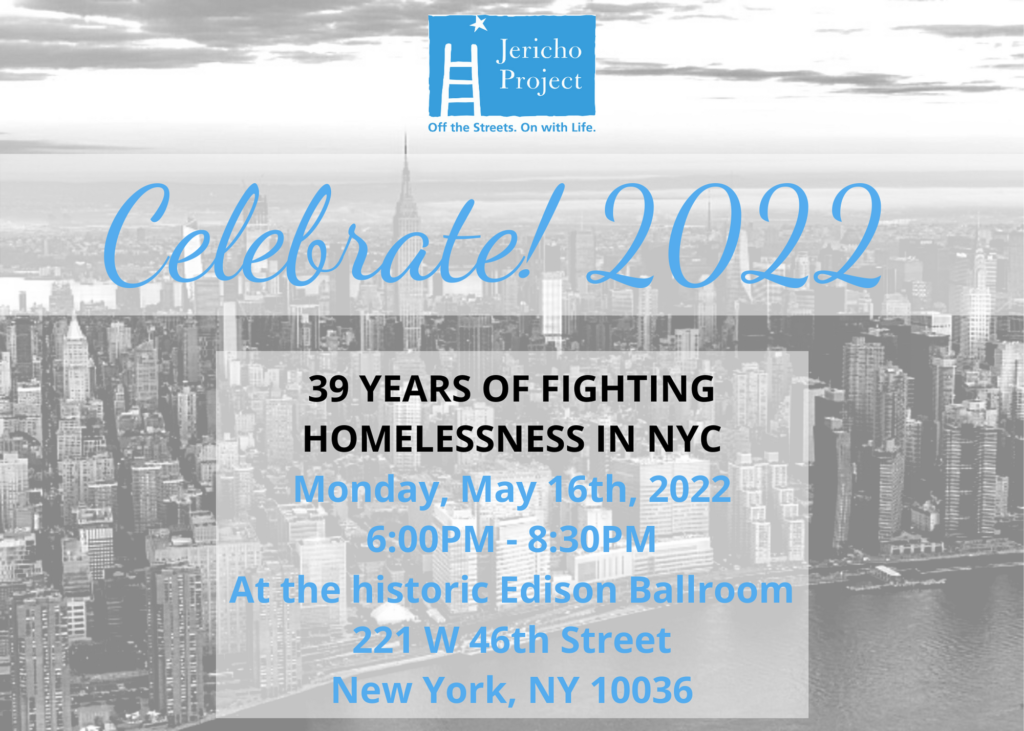 This year, Jericho Project's Annual Gala celebrated 39 years of work to end homelessness in New York City and honored our Veteran residents. Celebrate! 2022 was hosted at the historic Edison Ballroom and emceed by Erica Byfield of NBC 4 New York. Morgan Stanley was honored for their extraordinary support of Jericho's Veterans Initiative, alongside Michael Reed, Jericho's long-time Board Treasurer, for his commitment to ending homelessness in our great city and beyond. The event was a great success with all of the money raised going to build impactful programs and support for veterans, families, and young adults.

Thank You to Our Individual Sponsors
On With Life
Debbie and Mark Kopinski
Karyn and Joel Cohen
Home To Stay
Mimi and Michael Boublik
Helen and Edward Hintz
Zach Buchwald
Kristin and Michael Reed
Simon Bound
Advocate
Cecilia and Douglas Gschwind
Jerome Menifee
Murray Smith
Patricia and Alex Farman-Farmaian
Marie-France and Rene Kern
Cara Eisen
Friends of Jericho
Michelle Balfour and Raffiq Nathoo
Thomas Henderson
Patty and Schuyler Winter
Marjorie and Michael Stern
Karin and Paul Kingsley
Elizabeth Garland
Justin Lee
Laura Palantone and Danny Smith
Joseph Marger
Michael Boyd
Nancy and Ken Stein
Barbara Sievert
Alan Gelband
Joseph Ozalas
Elsa and Peter Jacobsen
Ming Wang
Chelsea Gratz
Feisal Afzal
Audrey Wilken
An Evening of Inspiration and Hope:
Jericho Project Celebrates Tori Lyon's 25 Years of Leadership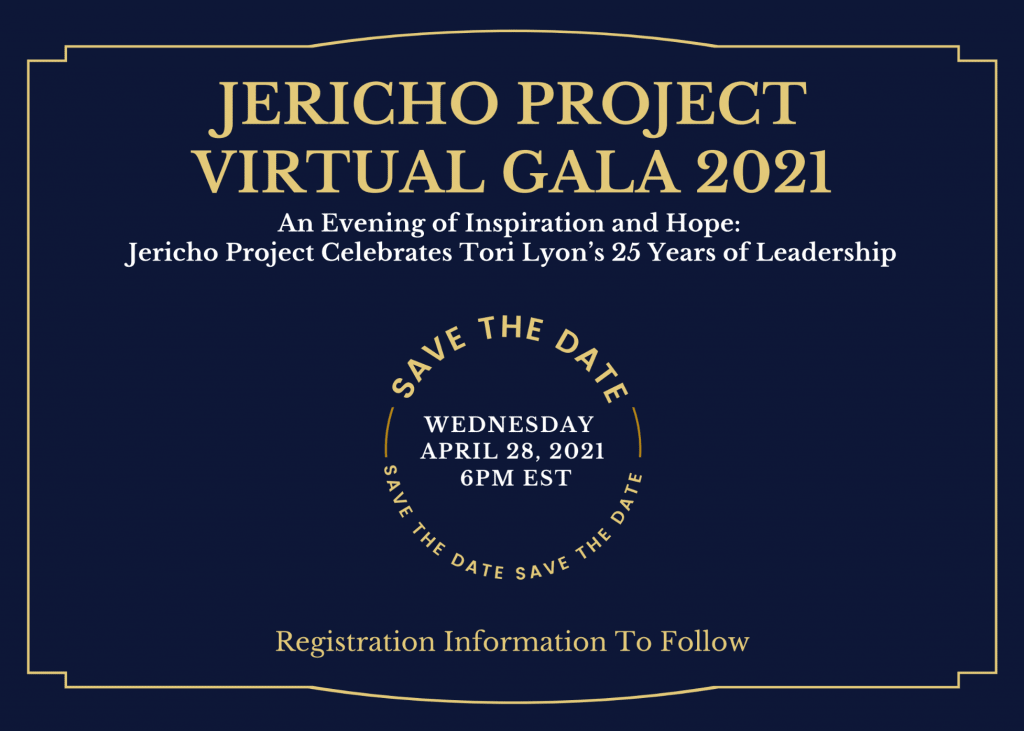 Jericho Project's Virtual Gala honoring CEO Tori Lyon's 25 Years of Leadership raised over $230,000 towards supporting housing and employment and wellness services. View the program, emceed by NBC 4 New York's Natalie Pasquarella, with testimonials, comedy and a Broadway rendition of Rent, HERE
Alan Lyon
Amie Gross Architects
Anastasia Vournas
Andrea Cuvelier
Artec Construction and Development Corp.
Borah Goldstein
Bright Power
Bruno and Mary Ann Quinson
Cara Eisen
Cheever Development
Chris Stern Hyman
Cognitive Therapy For Women Ps
Colin Campbell
Dawn Trachtenberg
Deborah C. Van Eck
Devine Partners, LLC
Drake/Anderson
Edward & Helen Hintz
EP Engineering
Geltrude & Company, LLC
Jerome Menifee
Jennifer Reingold
Joel Cohen

Julie Therese Wroble
Karen B. Adam
Karen Manheimer
Karen Wharton
Karin and Paul Kingsley
Kristen & Michael Reed Family Foundation
Louis and Blair Rosenfeld
Marjorie Stein
Mark Kopinski
Mimi Boublik
Nathalie Rubens
Reverend Jay Holland Gordon
Richman Housing Resources LLC
Robert Levy
Samantha Moore
Sarina Gwirtzman
Simon Bound
Stephen Penwell
The Hudson Companies, Inc.
The Signature B&B Companies
Wells Fargo
Wohabe Law Offices LLP
Celebrate! 2019 
Celebrating 36 Years of Ending Homelessness
Thank you to everyone who joined us at our annual Celebrate! 2019 event. We also would like to share our gratitude to those who also provided us with a donation who were unable to attend. Your support directly benefits vulnerable New Yorkers in need of stable housing and other supportive services.
With Gratitude
Stefan Holt, News Anchor, WNBC-TV for serving as the Master of Ceremonies for the second year in a row and for the news segment below.
Simone Joye Eford, Chief Development and Communications Officer and the Development Team 
Lynthia Romney of Romney Public Relations
Jericho's Young Professional Council (YPC) Members
Day of Action 2018
SUPPORTING PARTNERS:
BLACKROCK • VIDERI • GIBSON, DUNN & CRUTCHER • HOGAN LOVELLS • CRAVATH, SWAINE & MOORE • MICATO SAFARIS • WELLS FARGO
Please enjoy the Fox 5 news clip below and photos from the #JerichoDayofAction2017 and #JerichoDayofAction2018 volunteer projects at our eight sites throughout New York City, as well as stories from two of the many clients whose lives you have touched. We encourage you to share within your networks and continue taking a stand in the fight against homelessness in 2018 and beyond.
Thank you again for your support and partnership. We look forward to collaborating and continuing our work together in the future.