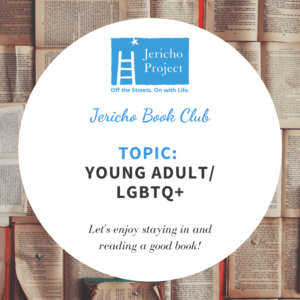 As we collectively begin to practice social distancing, it is important for us find ways of maintaining our sense of community. It is also a great time for us to all to spend more time reading content that will broaden our perspective and take us away from the daily onslaught of health related news. With that in mind, we have created the Jericho Book Club. Each week, we will be posting a new list of books from which to choose, and each week's list will have a unique theme. Our hopes are that we are able to offer a reprieve from daily life while at the same time increase our understanding of the clients we serve and the issues they face. This is one such way. We hope you enjoy.
In this lyrical debut, Ryan Berg immerses readers in the gritty, dangerous, and shockingly underreported world of homeless LGBTQ teens in New York. As a caseworker in a group home for disowned LGBTQ teenagers, Berg witnessed the struggles, fears, and ambitions of these disconnected youth as they resisted the pull of the street, tottering between destruction and survival. Focusing on the lives and loves of eight unforgettable youth, No House to Call My Home traces their efforts to break away from dangerous sex work and cycles of drug and alcohol abuse, and, in the process, to heal from years of trauma. From Bella's fervent desire for stability to Christina's irrepressible dreams of stardom to Benny's continuing efforts to find someone to love him, Berg uncovers the real lives behind the harrowing statistics: over 4,000 youth are homeless in New York City—43 percent of them identify as LGBTQ.
Eric Connelly is crumbling under the weight of his dad's expectations. He can't seem to live up to the "Connelly Man" standards—but when he meets the mysterious, free-spirited Jordan Grant, his dad's rules seem so much less important than they used to.
In this LGBT Young Adult novel, over-privileged and over-confident Queenie McBride thinks she has this whole college thing figured out. But as soon as classes begin at Boston University, she realizes that things aren't going to be as easy as they were in her private high school. Luckily, her best friend JJ is there to help keep her in line. But when Queenie meets Pudge, a homeless LGBT teen, her entire world is forever changed. With the help of Izzy, a strong-headed and beautiful social worker, Queenie learns how to be there for Pudge, leave her old habits behind and become the person she's always wanted to be.
From debut author Brenda Rufener comes a heart-wrenching and evocative story perfect for fans of Thirteen Reasons Why, Girl in Pieces, and All the Bright Places. Linden Rose has a big secret–she is homeless and living in the halls of her small-town high school. Her position as school blog editor, her best friends, Ham and Seung, and the promise of a future far away are what keep Linden under the radar and moving forward. But when cool-girl Bea comes to school with a bloody lip, the damage hits too close to home. Linden begins looking at Bea's life, and soon her investigation prompts people to pay more attention. And attention is the last thing she needs.
Linden knows the only way to put a stop to the violence is to tell Bea's story and come to terms with her own painful past. Even if that means breaking her rules for survival and jeopardizing the secrets she's worked so hard to keep.
What do you picture when you think of a homeless person? An older, grizzly man with a grey beard and an empty bottle of beer in his hand? An aged woman stumbling across the street?
Author Jennifer Pitsch is set on bringing truth to these common misconceptions. On any given night, there are around 1.3 million youth runaways living on the streets, in abandoned homes, or with friends or strangers. Whether they're escaping an abusive household or have been kicked out by intolerant parents, many young people will find themselves experiencing some form of homelessness in their lifetime.
Right before winter break, fourteen-year-old Molly Rosenberg reluctantly volunteers to participate in Santa Monica's annual homeless count, just to get her school's community service requirement out of the way. But when she ends up meeting Red, a spirited homeless girl only a few years older than she is, Molly makes it her mission to reunite her with her family in time for Christmas. This turns out to be extremely difficult—because Red refuses to talk about her past.There are things Molly won't talk about either. Like the awful thing that happened last winter. She may never be ready to talk about that. Not to Red, or to Cristo, the soulful boy she meets while riding the Ferris wheel one afternoon. When Molly realizes that the friends who Red keeps mentioning are nothing more than voices inside Red's head, she becomes even more concerned about her well-being. How will Molly keep her safe until she can figure out a way to get Red home?
In Sonya Sones's inspiring novel, two girls, with much more in common than they realize, give each other a new perspective on the meaning of family, friendship, and forgiveness.