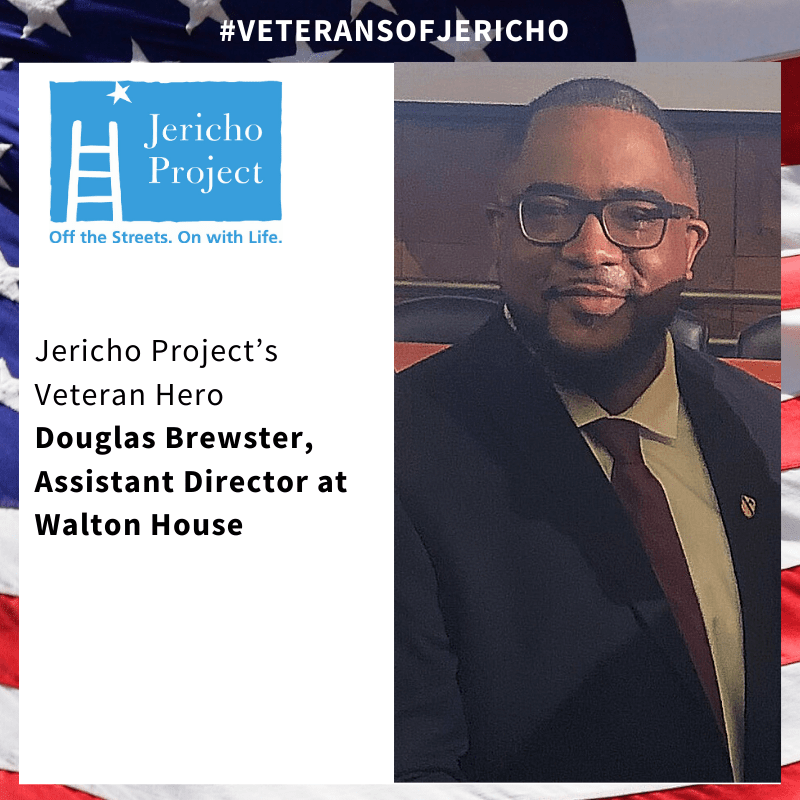 Dear Friend,
As I look ahead towards Veteran's Day this year, I can't help but reflect on the sacrifices made by so many remarkable people – both in the past by the Veterans who served our country so bravely and just in this last year by the Veterans who work for Jericho Project. In light of all of the challenges we have faced as a City and as a country this year, I can't quite remember a time during my 25-year tenure when I was as filled with gratitude and respect for my colleagues as I am now. At Jericho Project, we have always prided ourselves on the quality of services provided to our Veterans, but perhaps equally – if not more – impressive are the Veterans on our staff who have made it their life's work to give back to their fellow brothers and sisters in arms. Douglas Brewster, Assistant Director at our Walton House residence, is one of those people who embodies what it means to be both a Veteran and a part of the Jericho Project family.
When Douglas Brewster speaks with any of the 56 veterans living at Walton House, Jericho's newest Veterans Residence, he does so with empathy and experience – from exposure to violent combat to the struggles of re-employment in an economic downturn.
Doug's lifelong career of service to others started in the wake of 9/11, when he enlisted in the U.S. Army, was selected as an elite paratrooper in the Airborne School and was promoted to Sergeant. As a Combat Medic he served two tours in Baghdad, Iraq, from 2003-2008, witnessing first-hand the trauma of a war with no front line. "The enemy was embedded among the civilians," he recalls. "Our troops encountered danger everywhere."
The Great Recession was hitting just as Doug re-entered civilian life, so he focused on his education, enrolling in community college and graduating from the University of Texas. He landed an internship in the Texas Senate, where he ultimately worked as Deputy Chief of Staff for the now late Representative Ruth Jones McClendon.
Returning to his hometown of New York, Doug joined Jericho as a Veteran Service Coordinator in July of 2018, just a few months prior to the Walton House opening.
This year he was promoted to Assistant Director of Walton House and the Grant Per Diem program. He has brought creativity and passion to the need for mental and physical health support for veterans – conducting his own boxing classes and offering art therapy sessions.
The shutdown of social activities due to COVID-19 has been hard on the veterans. Doug is emphatic: "Our veterans are now more vulnerable than they ever have been, and Jericho's housing and services have never been so important."
We need your help to continue assisting our Veterans in this time of increased need.
As a supporter of our work and of our armed forces, I am sure that, you, like me, feel thankful Jericho Project is able to provide permanent housing and essential social services to our veterans.
If you value the services we provide to veterans – services that not only save you tax dollars and save the city's resources, but more importantly, enable people like Douglas to keep giving back to the veteran community – please donate here or text "Jerichovets" to 44-321. Your support, no matter the size, really makes a difference.
 From all of us at Jericho Project, thank you for your support and compassion. It's needed now more than ever.
With Warm Regards,
Tori Lyon, Chief Executive Officer