Dear Friend,
As I look ahead to 2022, I can't help but be filled with hope and cautious optimism as we collectively turn the page on the battle against the pandemic over the last 18 months. There is no doubt that we have endured one of the most trying periods of our lives, and perhaps no demographic was hit harder by the pandemic than senior citizens with underlying health conditions in urban areas like New York City. Nearly 40% of the tenants within Jericho's permanent supportive housing residences are seniors, and many have been aging in place since arriving at one of our eight residences. Over the past year, they have found themselves particularly vulnerable to an invisible threat. However, as life presents us with every obstacle possible, our elders continue to teach us the true meaning of resiliency and perseverance in the face of unimaginable challenges and serve as inspirations for us all. Jericho House resident Sandra Clark is one of those inspirations.  
 Sandra Clark had experienced a great deal of heartache before moving to Jericho House in 2012. Born and raised in Jersey City, she lived as an only child with her parents all her life. When they passed away, she experienced tremendous loss, and to cope with her grief, she struggled with substance abuse which subsequently led to financial insecurity. She was homeless for 23 years, but in 2008, she entered a detox program in New York and has since been sober for the past 13 years.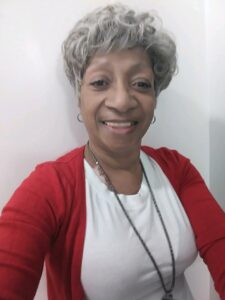 When she found her way to Jericho Project, she recalls being welcomed with open arms. "They greeted me at the door and put notes on my apartment about the services and activities in the building. I was so grateful I paid my rent before spending a dime on anything else," she said. 
  At the same time that she came to Jericho, she was also bravely battling lung cancer. After many successful treatments – and her continued commitment to sobriety – the doctors were able to shrink her tumor. During her time at Jericho House, Sandra has continued to pursue her life dreams. She attended the Adult Learning Center, focused on math, volunteered as Treasurer in her church, and completed her GED in early 2018.  
  Unfortunately, she is once again battling cancer. The staff at Jericho House have helped her navigate the healthcare system to get the care and counseling she needs, she says, and she is ever grateful for this support. She also knows that no matter what curveballs life throws her way, she is surrounded with the people and supports needed to continue forging ahead.  
  As we think about our blessings this holiday season, we are humbled to know and be of service to a special person like Sandra. However, we need your help to continue supporting and investing in our senior residents who are aging in place and to further our collective mission to end homelessness. 
 As a supporter of our work, I am sure that you, like me, feel thankful Jericho Project is able to provide permanent housing and essential social services to our seniors. If you value the services we provide to seniors – services that not only save you tax dollars and save the government's resources but more importantly, enable people like Sandra to keep giving back to our community – please donate at www.jerichoproject.org/donate or text "jerichoproject" to 44-321. Your support, no matter the amount, really makes a difference. 
From all of us at Jericho Project, thank you for your support and compassion. It's needed now more than ever.  
 With Warm Regards,