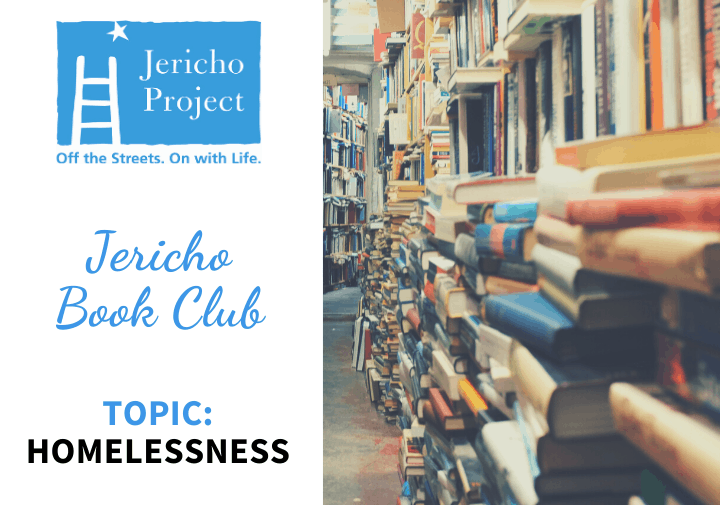 As we collectively begin to practice social distancing, it is important for us find ways of maintaining our sense of community. It is also a great time for us to all to spend more time reading content that will broaden our perspective and take us away from the daily onslaught of health related news. With that in mind, we have created the Jericho Book Club. Each week, we will be posting a new list of books from which to choose, and each week's list will have a unique theme. Our hopes are that we are able to offer a reprieve from daily life while at the same time increase our understanding of the clients we serve and the issues they face. This is one such way. We hope you enjoy.
In Evicted, Princeton sociologist and MacArthur "Genius" Matthew Desmond follows eight families in Milwaukee as they struggle to keep a roof over their heads. Evicted transforms our understanding of poverty and economic exploitation while providing fresh ideas for solving one of 21st-century America's most devastating problems. Its unforgettable scenes of hope and loss remind us of the centrality of home, without which nothing else is possible.

Through this searing study of women in homeless shelters, Elliott Leibow disabuses us of the myth that the homeless are generally lazy and disinterested in altering their condition. Tell Them Who I Am places the reader squarely in the shoes of the inhabitants of a Washington, D.C. homeless shelter for women. Walking the reader through a day in the life of a homeless person, hour by hour, Liebow presents the obstacles placed in front of women who ache to regain the dignity they once possessed.
A wry, mesmerizing portrait of being underprivileged, underage, and underdressed in 1980s New York City, Girlbomb provides an unflinching look at street life, survival sex, female friendships, and first loves.
"How satisfying to watch Erlbaum survive adolescence and produce a smart, engaging book."
–The New York Times Book Review
"Erlbaum's survival is hard-won, the journey rendered with page-turning intensity."
–New York Post
The story that jolted the conscience of the nation when it first appeared in The New Yorker
Jonathan Kozol is one of America's most forceful and eloquent observers of the intersection of race, poverty, and education. His books, from the National Book Award–winning Death at an Early Age to his most recent, the critically acclaimed Shame of the Nation, are touchstones of the national conscience. First published in 1988 and based on the months the author spent among America's homeless, Rachel and Her Children is an unforgettable record of the desperate voices of men, women, and especially children caught up in a nightmarish situation that tears at the hearts of readers. With record numbers of homeless children and adults flooding the nation's shelters, Rachel and Her Children offers a look at homelessness that resonates even louder today.
"A searing indictment of a society that has largely chosen to look the other way…One would need a heart of stone not to be moved." —New York Times
This moving collection brings together the stories of fifteen women who share the common experience of homelessness. Drawing on interviews conducted in Seattle, Washington over the course of nearly two decades, these accounts range across the United States, from New York to Louisiana to Los Angeles. Included here are memories of living in the South at the tail end of Jim Crow, of growing up gay and Black in the Pacific Northwest in the 1960s, and of surviving childhood abuse in Harlan, Kentucky in the 1970s. These women reveal the formidable struggles they face every day, from catastrophic health issues to routine threats of physical and sexual assault. But they also speak about their own intellectual interests and spiritual lives, and their activism with organizations such as Women in Black, which has held vigils to mark the deaths and honor the lives of the hundreds who have died homeless in the city that spawned Microsoft, Starbucks, and the WTO protests. Illuminating the rich and complicated humanity of its narrators, this book challenges stereotypes about homeless people and provides jarring, unforgettable insights–taken from shelters, drop-in centers, and the streets–into civil society in the United States.
In many ways, for the majority of Americans, financial insecurity has become the new norm.The American Way of Poverty shines a light on this travesty. Sasha Abramsky brings the effects of economic inequality out of the shadows and, ultimately, suggests ways for moving toward a fairer and more equitable social contract. Exploring everything from housing policy to wage protections and affordable higher education, Abramsky lays out a panoramic blueprint for a reinvigorated political process that, in turn, will pave the way for a renewed War on Poverty.