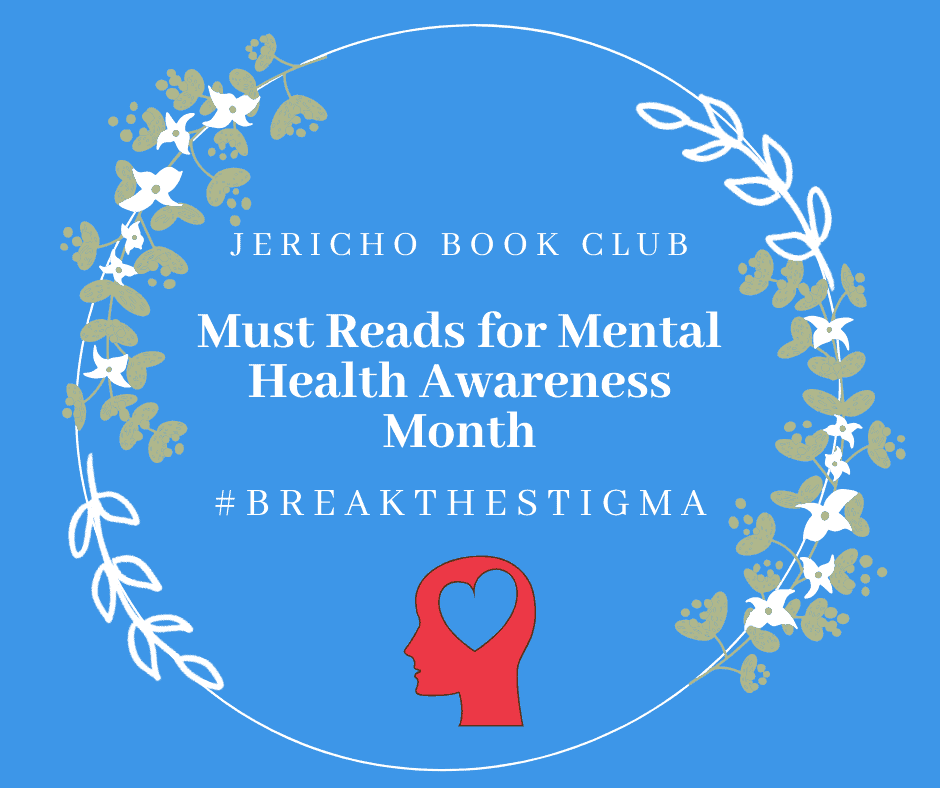 May is Mental Health Awareness Month and we find that books can not only help us understand or sympathize, but can often help us talk about difficult topics. Here are some must-read books to enjoy this month to help start a conversation and #endthestigma.
If you could read my mind, you wouldn't be smiling.
Samantha McAllister looks just like the rest of the popular girls in her junior class. But hidden beneath the straightened hair and expertly applied makeup is a secret that her friends would never understand: Sam has Purely-Obsessional OCD and is consumed by a stream of dark thoughts and worries that she can't turn off.
Second-guessing every move, thought, and word makes daily life a struggle, and it doesn't help that her lifelong friends will turn toxic at the first sign of a wrong outfit, wrong lunch, or wrong crush. Yet Sam knows she'd be truly crazy to leave the protection of the most popular girls in school. So when Sam meets Caroline, she has to keep her new friend with a refreshing sense of humor and no style a secret, right up there with Sam's weekly visits to her psychiatrist.
Caroline introduces Sam to Poet's Corner, a hidden room and a tight-knit group of misfits who have been ignored by the school at large. Sam is drawn to them immediately, especially a guitar-playing guy with a talent for verse, and starts to discover a whole new side of herself. Slowly, she begins to feel more "normal" than she ever has as part of the popular crowd . . . until she finds a new reason to question her sanity and all she holds dear.
That night Ingrid told Caitlin, I'll go wherever you go. But by dawn Ingrid, and her promise, were gone.
Ingrid's suicide immobilizes Caitlin, leaving her unsure of her place in a new life she hardly recognizes. A life without the art, the laughter, the music, and the joy that she shared with her best friend…. But Ingrid left something behind. In words and drawings, Ingrid documented a painful farewell in her journal. Journeying through Ingrid's final days, Caitlin fights back through unspeakable loss to find renewed hope.

Hold Still is the indelible debut that launched Nina LaCour, the award-winning author of We Are Okay. LaCour's breakthrough novel brings the changing seasons of Caitlin's first year without Ingrid to the page with indelible emotion and honesty.
From one of America's iconic writers, a stunning book of electric honesty and passion. Joan Didion explores an intensely personal yet universal experience: a portrait of a marriage–and a life, in good times and bad–that will speak to anyone who has ever loved a husband or wife or child.
Cartoonist Ellen Forney explores the relationship between "crazy" and "creative" in this graphic memoir of her bipolar disorder, woven with stories of famous bipolar artists and writers.
Shortly before her thirtieth birthday, Forney was diagnosed with bipolar disorder. Flagrantly manic and terrified that medications would cause her to lose creativity, she began a years-long struggle to find mental stability while retaining her passions and creativity.
Searching to make sense of the popular concept of the crazy artist, she finds inspiration from the lives and work of other artists and writers who suffered from mood disorders, including Vincent van Gogh, Georgia O'Keeffe, William Styron, and Sylvia Plath. She also researches the clinical aspects of bipolar disorder, including the strengths and limitations of various treatments and medications, and what studies tell us about the conundrum of attempting to "cure" an otherwise brilliant mind.
Darkly funny and intensely personal, Forney's memoir provides a visceral glimpse into the effects of a mood disorder on an artist's work, as she shares her own story through bold black-and-white images and evocative prose.
A celebrated science and health reporter offers a wry, bracingly honest account of living with anxiety.
A racing heart. Difficulty breathing. Overwhelming dread. Andrea Petersen was first diagnosed with an anxiety disorder at the age of twenty, but she later realized that she had been experiencing panic attacks since childhood. With time her symptoms multiplied. She agonized over every odd physical sensation. She developed fears of driving on highways, going to movie theaters, even licking envelopes. Although having a name for her condition was an enormous relief, it was only the beginning of a journey to understand and master it—one that took her from psychiatrists' offices to yoga retreats to the Appalachian Trail.
Woven into Petersen's personal story is a fascinating look at the biology of anxiety and the groundbreaking research that might point the way to new treatments. She compares psychoactive drugs to non-drug treatments, including biofeedback and exposure therapy. And she explores the role that genetics and the environment play in mental illness, visiting top neuroscientists and tracing her family history—from her grandmother, who, plagued by paranoia, once tried to burn down her own house, to her young daughter, in whom Petersen sees shades of herself.
Brave and empowering, this is essential reading for anyone who knows what it means to live on edge.
An intense memoir about mental illness, memory and storytelling, from an acclaimed novelist.
When Rob Roberge learns that he's likely to have developed a progressive memory-eroding disease from years of hard living and frequent concussions, he is terrified by the prospect of becoming a walking shadow. In a desperate attempt to preserve his identity, he sets out to (somewhat faithfully) record the most formative moments of his life—ranging from the brutal murder of his childhood girlfriend, to a diagnosis of rapid-cycling bipolar disorder, to opening for famed indie band Yo La Tengo at The Fillmore in San Francisco. But the process of trying to remember his past only exposes just how fragile the stories that lay at the heart of our self-conception really are.
As Liar twists and turns through Roberge's life, it turns the familiar story of sex, drugs, and rock 'n' roll on its head. Darkly funny and brutally frank, it offers a remarkable portrait of a down and out existence cobbled together across the country, from musicians' crashpads around Boston, to seedy bars popular with sideshow freaks in Florida, to a painful moment of reckoning in the scorched Wonder Valley desert of California. As Roberge struggles to keep addiction and mental illness from destroying the good life he has built in his better moments, he is forced to acknowledge the increasingly blurred line between the lies we tell others and the lies we tell ourselves.
"Glorious…one of the best memoirs I've read in years…a tragicomic gem about family, class, race, justice, and the spectacular weirdness of Wichita. [McDermott] can move from barely controlled hilarity to the brink of rage to aching tenderness in a single breath." — Marya Hornbacher, New York Times Book Review
Zack McDermott, a 26-year-old Brooklyn public defender, woke up one morning convinced he was being filmed, Truman Show-style, as part of an audition for a TV pilot. Every passerby was an actor; every car would magically stop for him; everything he saw was a cue from "The Producer" to help inspire the performance of a lifetime. After a manic spree around Manhattan, Zack, who is bipolar, was arrested on a subway platform and admitted to Bellevue Hospital.
So begins the story of Zack's freefall into psychosis and his desperate, poignant, often hilarious struggle to claw his way back to sanity. It's a journey that will take him from New York City back to his Kansas roots and to the one person who might be able to save him, his tough, big-hearted Midwestern mother, nicknamed the Bird, whose fierce and steadfast love is the light in Zack's dark world.
Before his odyssey is over, Zack will be tackled by guards in mental wards, run naked through cornfields, receive secret messages from the TV, befriend a former Navy Seal and his talking stuffed monkey, and see the Virgin Mary in the whorls of his own back hair. But with the Bird's help, he just might have a shot at pulling through, starting over, and maybe even meeting a partner who can love him back, bipolar and all.
Introducing an electrifying new voice, Gorilla and the Bird is a raw and unforgettable account of a young man's unraveling and the relationship that saves him.