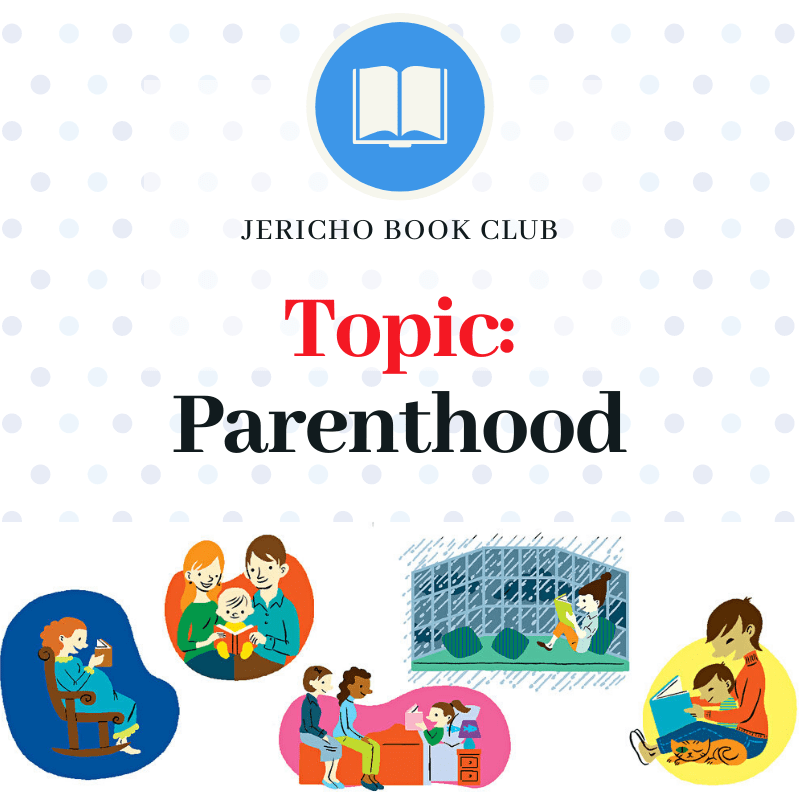 Parenthood is complicated, messy, and beautiful, and there are very few things better than reading a book that authentically addresses an experience in a way that resonates with you wholeheartedly. When an author is able to put into words everything you are feeling or thinking about parenthood, their novel becomes a trusted parenting reference. This week's reading list consists of books about the experience of being a parent and each book offers totally different experiences, but their parenting themes are universal. Happy reading!
When Astrid Strick witnesses a school bus accident in the center of town, it jostles loose a repressed memory from her young parenting days decades earlier. Suddenly, Astrid realizes she was not quite the parent she thought she'd been to her three, now-grown children. But to what consequence?
Astrid's youngest son is drifting and unfocused, making parenting mistakes of his own. Her daughter is pregnant yet struggling to give up her own adolescence. And her eldest seems to measure his adult life according to standards no one else shares. But who gets to decide, so many years later, which long-ago lapses were the ones that mattered? Who decides which apologies really count? It might be that only Astrid's thirteen-year-old granddaughter and her new friend really understand the courage it takes to tell the truth to the people you love the most.
In All Adults Here, Emma Straub's unique alchemy of wisdom, humor, and insight come together in a deeply satisfying story about adult siblings, aging parents, high school boyfriends, middle school mean girls, the lifelong effects of birth order, and all the other things that follow us into adulthood, whether we like them to or not.
Perfect for Father's Day, a critical read for all dads seeking to connect with their daughters and raise confident young women in today's increasingly complicated world.
Drawing on her thirty years' experience practicing pediatric and adolescent medicine, teen health expert Dr. Meg Meeker explains why an active father figure is maybe the single most important factor in a young woman's development. In this invaluable guide, Meeker shows how a father can be both counsel and protector for his daughter as she grows into a spiritually and mentally strong young woman.
From cradling his newborn to walking her down the aisle, a father must relish his paramount responsibility—guiding the course of his daughter's life. Meeker reveals
• How a man can become a "strong father"
• How a father's guidance influences every part of a woman's life, from her self-respect to her perspective on drugs, alcohol, and sex
• How to lay down ground rules that are respected without creating distance in your relationship with your daughter
• Why you need to be your daughter's hero
• The mistakes most fathers make—and the serious consequences
• How to help daughters make their own good decisions and avoid disastrous mistakes
• How a father's faith will influence his daughter's spiritual development
• How to get through to you daughter, even during her toughest don't-talk-to-me years
• True stories of daughters who were on the wrong path—and how their fathers helped to bring them back
Learn how to grow, strengthen, or rebuild your relationship with your daughter to better both your life and hers in the bestselling Strong Fathers, Strong Daughters: 10 Secrets Every Father Should Know.
A fiercely imaginative new novel about a family whose road trip across America collides with an immigration crisis at the southwestern border–an indelible journey told with breathtaking imagery, spare lyricism, and profound humanity.
A mother and father set out with their two children, a boy and a girl, driving from New York to Arizona in the heat of summer. Their destination: Apacheria, the place the Apaches once called home.
Why Apaches? asks the ten-year-old son. Because they were the last of something, answers his father.
In their car, they play games and sing along to music. But on the radio, there is news about an "immigration crisis": thousands of kids trying to cross the southwestern border into the United States, but getting detained–or lost in the desert along the way.
As the family drives–through Virginia to Tennessee, across Oklahoma and Texas–we sense they are on the brink of a crisis of their own. A fissure is growing between the parents, one the children can almost feel beneath their feet. They are led, inexorably, to a grand, harrowing adventure–both in the desert landscape and within the chambers of their own imaginations.
Told through several compelling voices, blending texts, sounds, and images, Lost Children Archive is an astonishing feat of literary virtuosity. It is a richly engaging story of how we document our experiences, and how we remember the things that matter to us the most. With urgency and empathy, it takes us deep into the lives of one remarkable family as it probes the nature of justice and equality today.
4. An American Family by Michael Galluccio and Jon Galluccio
What makes a family?
Love makes a family.
An American Family is the story of Jon and Michael Galluccio, two gay men who become foster parents to Adam, a premature baby, born with the AIDS virus and addicted to crack, heroin, marijuana, and alcohol. While nursing Adam through the many medical emergencies of his first year and surviving the daily dramas that all new parents go through, they realize that this child, their son, could be taken back from them at any time by the state, and they decide to try to legally adopt him together. Refused by the state-even as it asks them to care for another at-risk infant-they decide to fight for the adoption of their son in the courts, and win, setting a precedent for all unmarried couples in New Jersey. This book is dramatic proof that the American family is vibrantly alive and extending itself in remarkable new directions.
From the New York Times bestselling author of the National Book Award title The Poet X comes a dazzling novel in prose about a girl with talent, pride, and a drive to feed the soul that keeps her fire burning bright.
Ever since she got pregnant freshman year, Emoni Santiago's life has been about making the tough decisions—doing what has to be done for her daughter and her abuela. The one place she can let all that go is in the kitchen, where she adds a little something magical to everything she cooks, turning her food into straight-up goodness.
Even though she dreams of working as a chef after she graduates, Emoni knows that it's not worth her time to pursue the impossible. Yet despite the rules she thinks she has to play by, once Emoni starts cooking, her only choice is to let her talent break free.
A NEW YORK TIMES NOTABLE BOOK OF 2017
From the author of the viral New York Times op-ed column "To Siri with Love" comes a collection of touching, hilarious, and illuminating stories about life with a thirteen-year-old boy with autism that hold insights and revelations for us all.
When Judith Newman shared the story of how Apple's electronic personal assistant, Siri, helped Gus, her son who has autism, she received widespread media attention and an outpouring of affection from readers around the world. Basking in the afterglow of media attention, Gus told anyone who would listen, "I'm a movie star."
Judith's story of her son and his bond with Siri was an unusual tribute to technology. While many worry that our electronic gadgets are dumbing us down, she revealed how they can give voice to others, including children with autism like Gus—a boy who has trouble looking people in the eye, hops when he's happy, and connects with inanimate objects on an empathetic level.
To Siri with Love is a collection of funny, poignant, and uplifting stories about living with an extraordinary child who has helped a parent see and experience the world differently. From the charming (Gus weeping with sympathy over the buses that would lie unused while the bus drivers were on strike) to the painful (paying $22,000 for a behaviorist in Manhattan to teach Gus to use a urinal) to the humorous (Gus's insistence on getting naked during all meals, whether at home or not, because he does not want to get his clothes dirty) to the profound (how an automated "assistant" helped a boy learn how to communicate with the rest of the world), the stories in To Siri with Love open our eyes to the magic and challenges of a life beyond the ordinary.
A dazzlingly accomplished debut collection explores the ties that bind parents and children, husbands and wives, lovers and friends to one another and to the places they call home.
In "Who Will Greet You at Home," a National Magazine Award finalist for The New Yorker, A woman desperate for a child weaves one out of hair, with unsettling results. In "Wild," a disastrous night out shifts a teenager and her Nigerian cousin onto uneasy common ground. In "The Future Looks Good," three generations of women are haunted by the ghosts of war, while in "Light," a father struggles to protect and empower the daughter he loves. And in the title story, in a world ravaged by flood and riven by class, experts have discovered how to "fix the equation of a person" – with rippling, unforeseen repercussions.
Evocative, playful, subversive, and incredibly human, What It Means When a Man Falls from the Sky heralds the arrival of a prodigious talent with a remarkable career ahead of her.