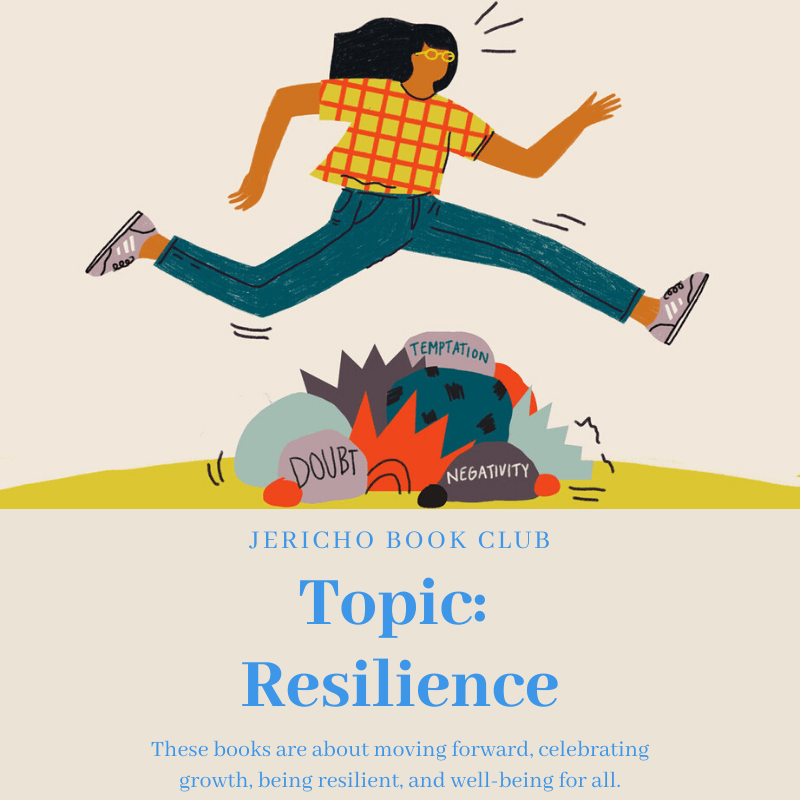 Here is a list of highly acclaimed books that address this week's Jericho Book Club theme: Resilience. These books are about moving forward, celebrating growth, being resilient, and well-being for all. We believe you will find something that inspires you as these books revolve around people who faced challenges and overcame adversity. Happy reading!
Combining magic, mysticism, wisdom and wonder into an inspiring tale of self-discovery, The Alchemist has become a modern classic, selling millions of copies around the world and transforming the lives of countless readers across generations.
Paulo Coelho's masterpiece tells the mystical story of Santiago, an Andalusian shepherd boy who yearns to travel in search of a worldly treasure. His quest will lead him to riches far different—and far more satisfying—than he ever imagined. Santiago's journey teaches us about the essential wisdom of listening to our hearts, of recognizing opportunity and learning to read the omens strewn along life's path, and, most importantly, to follow our dreams.
#1 NEW YORK TIMES BESTSELLER
No one's ever told Eleanor that life should be better than fine. 
Meet Eleanor Oliphant: She struggles with appropriate social skills and tends to say exactly what she's thinking. Nothing is missing in her carefully timetabled life of avoiding social interactions, where weekends are punctuated by frozen pizza, vodka, and phone chats with Mummy.
But everything changes when Eleanor meets Raymond, the bumbling and deeply unhygienic IT guy from her office. When she and Raymond together save Sammy, an elderly gentleman who has fallen on the sidewalk, the three become the kinds of friends who rescue one another from the lives of isolation they have each been living. And it is Raymond's big heart that will ultimately help Eleanor find the way to repair her own profoundly damaged one.
Soon to be a major motion picture produced by Reese Witherspoon, Eleanor Oliphant Is Completely Fine is the smart, warm, and uplifting story of an out-of-the-ordinary heroine whose deadpan weirdness and unconscious wit make for an irresistible journey as she realizes. . .
The only way to survive is to open your heart. 
An instant #1 New York Times bestseller!
Ernt Allbright, a former POW, comes home from the Vietnam war a changed and volatile man. When he loses yet another job, he makes an impulsive decision: he will move his family north, to Alaska, where they will live off the grid in America's last true frontier.
Thirteen-year-old Leni, a girl coming of age in a tumultuous time, caught in the riptide of her parents' passionate, stormy relationship, dares to hope that a new land will lead to a better future for her family. She is desperate for a place to belong. Her mother, Cora, will do anything and go anywhere for the man she loves, even if means following him into the unknown.
At first, Alaska seems to be the answer to their prayers. In a wild, remote corner of the state, they find a fiercely independent community of strong men and even stronger women. The long, sunlit days and the generosity of the locals make up for the Allbrights' lack of preparation and dwindling resources.
But as winter approaches and darkness descends on Alaska, Ernt's fragile mental state deteriorates and the family begins to fracture. Soon the perils outside pale in comparison to threats from within. In their small cabin, covered in snow, blanketed in eighteen hours of night, Leni and her mother learn the terrible truth: they are on their own. In the wild, there is no one to save them but themselves.
In this unforgettable portrait of human frailty and resilience, Kristin Hannah reveals the indomitable character of the modern American pioneer and the spirit of a vanishing Alaska―a place of incomparable beauty and danger. The Great Alone is a daring, beautiful, stay-up-all-night story about love and loss, the fight for survival, and the wildness that lives in both man and nature.Age Range: Adult .
A modern-day story of family, loss, and renewal, Halsey Street captures the deeply human need to belong—not only to a place but to one another.
Penelope Grand has scrapped her failed career as an artist in Pittsburgh and moved back to Brooklyn to keep an eye on her ailing father. She's accepted that her future won't be what she'd dreamed, but now, as gentrification has completely reshaped her old neighborhood, even her past is unrecognizable. Old haunts have been razed, and wealthy white strangers have replaced every familiar face in Bed-Stuy. Even her mother, Mirella, has abandoned the family to reclaim her roots in the Dominican Republic. That took courage. It's also unforgivable.
When Penelope moves into the attic apartment of the affluent Harpers, she thinks she's found a semblance of family—and maybe even love. But her world is upended again when she receives a postcard from Mirella asking for reconciliation. As old wounds are reopened, and secrets revealed, a journey across an ocean of sacrifice and self-discovery begins.
An engrossing debut, Halsey Street shifts between the perspectives of these two captivating, troubled women. Mirella has one last chance to win back the heart of the daughter she'd lost long before leaving New York, and for Penelope, it's time to break free of the hold of the past and start navigating her own life.
A NEW YORK TIMES NOTABLE BOOK of 2018 * Amazon Book of the Month ✳︎ Indies Introduce 2018 ✳︎ INDIES NEXT 2018 Selection
In Every Moment We Are Still Alive tells the story of a man whose world has come crashing down overnight: His long-time partner has developed an fatal illness, just as she is about to give birth to their first child … even as his father is diagnosed with cancer.
Reeling in grief, Tom finds himself wrestling with endless paperwork and indecipherable diagnoses, familial misunderstandings and utter exhaustion while trying simply to comfort his loved ones as they begin to recede from him.
But slowly, amidst the pain and fury, arises a story of resilience and hope, particularly when Tom finds himself having to take responsibility for the greatest gift of them all, his newborn daughter.
Written in an unforgettable style that dives deep into the chaos of grief and pain, yet also achieves a poetry that is inspiring, In Every Moment We Are Still Alive is slated to become one of the most stirring novels of the year.
From the New York Times bestselling author of The Empathy Exams comes this transformative work showing that sometimes the recovery is more gripping than the addiction.
With its deeply personal and seamless blend of memoir, cultural history, literary criticism, and reportage, The Recovering turns our understanding of the traditional addiction narrative on its head, demonstrating that the story of recovery can be every bit as electrifying as the train wreck itself. Leslie Jamison deftly excavates the stories we tell about addiction — both her own and others' — and examines what we want these stories to do and what happens when they fail us. All the while, she offers a fascinating look at the larger history of the recovery movement, and at the complicated bearing that race and class have on our understanding of who is criminal and who is ill.
At the heart of the book is Jamison's ongoing conversation with literary and artistic geniuses whose lives and works were shaped by alcoholism and substance dependence, including John Berryman, Jean Rhys, Billie Holiday, Raymond Carver, Denis Johnson, and David Foster Wallace, as well as brilliant lesser-known figures such as George Cain, lost to obscurity but newly illuminated here. Through its unvarnished relation of Jamison's own ordeals, The Recovering also becomes a book about a different kind of dependency: the way our desires can make us all, as she puts it, "broken spigots of need." It's about the particular loneliness of the human experience-the craving for love that both devours us and shapes who we are.
For her striking language and piercing observations, Jamison has been compared to such iconic writers as Joan Didion and Susan Sontag, yet her utterly singular voice also offers something new. With enormous empathy and wisdom, Jamison has given us nothing less than the story of addiction and recovery in America writ large, a definitive and revelatory account that will resonate for years to come.
#1 NEW YORK TIMES BESTSELLER • When we deny our stories, they define us. When we own our stories, we get to write the ending.
Social scientist Brené Brown has ignited a global conversation on courage, vulnerability, shame, and worthiness. Her pioneering work uncovered a profound truth: Vulnerability—the willingness to show up and be seen with no guarantee of outcome—is the only path to more love, belonging, creativity, and joy. But living a brave life is not always easy: We are, inevitably, going to stumble and fall.
It is the rise from falling that Brown takes as her subject in Rising Strong. As a grounded theory researcher, Brown has listened as a range of people—from leaders in Fortune 500 companies and the military to artists, couples in long-term relationships, teachers, and parents—shared their stories of being brave, falling, and getting back up. She asked herself, What do these people with strong and loving relationships, leaders nurturing creativity, artists pushing innovation, and clergy walking with people through faith and mystery have in common? The answer was clear: They recognize the power of emotion and they're not afraid to lean in to discomfort.
Walking into our stories of hurt can feel dangerous. But the process of regaining our footing in the midst of struggle is where our courage is tested and our values are forged. Our stories of struggle can be big ones, like the loss of a job or the end of a relationship, or smaller ones, like a conflict with a friend or colleague. Regardless of magnitude or circumstance, the rising strong process is the same: We reckon with our emotions and get curious about what we're feeling; we rumble with our stories until we get to a place of truth; and we live this process, every day, until it becomes a practice and creates nothing short of a revolution in our lives. Rising strong after a fall is how we cultivate wholeheartedness. It's the process, Brown writes, that teaches us the most about who we are.
#1 NATIONAL BESTSELLER

At twenty-two, Cheryl Strayed thought she had lost everything. In the wake of her mother's death, her family scattered and her own marriage was soon destroyed. Four years later, with nothing more to lose, she made the most impulsive decision of her life. With no experience or training, driven only by blind will, she would hike more than a thousand miles of the Pacific Crest Trail from the Mojave Desert through California and Oregon to Washington State—and she would do it alone. Told with suspense and style, sparkling with warmth and humor, Wild powerfully captures the terrors and pleasures of one young woman forging ahead against all odds on a journey that maddened, strengthened, and ultimately healed her.
One of the Best Books of the Year: NPR, The Boston Globe, Entertainment Weekly, Vogue, St. Louis Dispatch