Volunteers across New York City to give back at start of holiday season.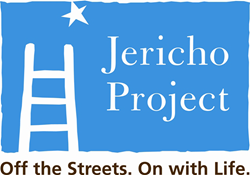 Our Day of Action will give New Yorkers a way to tackle the crisis of homelessness head-on and give back to our beloved city, — Tori Lyon, CEO of Jericho Project.
NEW YORK, NY (PRWEB) OCTOBER 20, 2016
Jericho Project, a 33-year old nationally-acclaimed nonprofit ending homelessness at its roots, and its supporting partners (confirmed to-date BlackRock's OUT Network; Bombas Socks; Gibson, Dunn & Crutcher LLP; Goldman Sachs; K.I.D.S Fashion Delivers; Proskauer; TD Bank, and Viacom) are set to kick off the First Annual city-wide Day of Action taking place December 2nd to galvanize hundreds of volunteers to improve the lives and prospects of New Yorkers feeling invisible to society and struggling with homelessness and poverty.
Jericho's Day of Action will begin the 2016 holiday season by raising awareness about the crucial issue of homelessness and offering individuals, families, community partners and companies a unique opportunity to participate in results-driven service projects taking place simultaneously across ten of Jericho's supportive housing residences and program service offices in Manhattan and the Bronx. These facilities are the foundation of Jericho's work to provide housing, employment and physical and mental health services to over 2,000 homeless and formerly homeless individuals annually.
Volunteer projects ranging from assembling and distributing a variety of care packages to clothing, food, and toy drives and distributions will brighten the outlooks of many NYC citizens struggling to get off the streets and on with life. Through this direct service volunteerism, the Day of Action is designed to enable the city's most vulnerable individuals, including veterans, young adults (a large majority of whom identify as LGBTQ) and families to receive the support, everyday necessities and supplies they so desperately need, but often have to do without.
"New York is one of the most compassionate cities in the world, yet we have over 61,000 adults and children sleeping in homeless shelters on any given night. Our Day of Action will give New Yorkers a way to tackle the crisis of homelessness head-on and give back to our beloved city," said Tori Lyon, CEO of Jericho Project.
The First Annual Day of Action is the newest game-changing strategy in the fight against homelessness advanced by Jericho Project and its dedicated corporate and community partners. From Jericho's Veterans Initiative launched in 2006, to its city-wide Home to Stay programming for families, to its housing and employment services now underway for young adults, including displaced LGBTQ individuals, the agency has always been a leader in innovating and comprehensively meeting the specific needs of the populations served.
"If you have to work on December 2nd and can't physically be at one of our volunteer sites, we invite and encourage your entire office to get involved in the Day of Action by hosting a work place volunteer project at your organization headquarters, which will surely build employee morale, while providing an impactful and lasting service to fellow New Yorkers extremely in need," said LaToya Williams-Belfort, Chief Development and Communications Officer at Jericho Project.
Volunteers are encouraged to register early at https://jerichoproject.org/action, as the Day of Action is building momentum quickly.
For corporate group participation and sponsorship, please contact Michelle Anthony at manthony@jerichoproject.org. For individual volunteers and family/friend groups, $100 per volunteer or $350 for a group of four will cover the cost of all Day of Action supplies and distributions, as well as support Jericho's life-changing, cost-effective year-round services and programming.
About Jericho Project: #JerichoDayOfAction2016
Jericho Project was founded in 1983 to provide housing and holistic services to New York City's most vulnerable homeless individuals. Jericho's rigorous fiscal discipline, innovative public-private partnerships and base of passionate donors have created a solid track record of results. 95% of clients maintain housing stability and 90% of Jericho residents affected by substance abuse maintain their sobriety. Jericho's housing and extended services cost only $13,000 per person annually, compared to $32,000 for a single shelter, $50,000 for a family shelter, and $168,000 for a jail cell annually. https://jerichoproject.org
About BlackRock's OUT Network:
The mission of the OUT Network (OUT) is to connect the experience of the LGBT community to BlackRock's principles by promoting a culture where employees feel comfortable sharing their stories and bringing their genuine selves to work. OUT is built on the belief that the LGBT experience of choosing to be authentic at work helps employees understand trust on an individual level. This, in turn, allows us to develop into more sophisticated fiduciaries so that we are better able to serve the specific needs of each of our unique clients collectively, as One BlackRock. http://www.blackrock.com
About Bombas:
Founded in 2013, Bombas is a collection of highly functional and fashionable athletic-leisure socks with a philanthropic mission. After discovering socks are the #1 most requested clothing item in homeless shelters, founders Randy Goldberg and David Heath established the brand's mission to donate a pair of socks for every pair sold. To date, the company has donated more than 1 million pairs of socks. Each sock Bombas sells is constructed using Bombas Sock Tech, comprised of substantial ways to improve the comfort, performance and design of the sock. The collection is available on http://www.Bombas.com in a variety of bold colors and neutral solid for men, women and kids.
About Gibson, Dunn & Crutcher LLP:
Gibson, Dunn & Crutcher LLP is a leading international law firm. Consistently ranking among the world's top law firms in industry surveys and major publications, Gibson Dunn is distinctively positioned in today's global marketplace with more than 1,200 lawyers and 19 offices, including Beijing, Brussels, Century City, Dallas, Denver, Dubai, Frankfurt, Hong Kong, London, Los Angeles, Munich, New York, Orange County, Palo Alto, Paris, San Francisco, São Paulo, Singapore, and Washington, D.C. For more information on Gibson Dunn, please visit our Web site. http://www.gibsondunn.com
About Goldman Sachs: The Goldman Sachs Group, Inc. is a leading global investment banking, securities and investment management firm that provides a wide range of financial services to a substantial and diversified client base that includes corporations, financial institutions, governments and high-net-worth individuals. Founded in 1869, the firm is headquartered in New York and maintains offices in all major financial centers around the world. http://www.goldmansachs.com
About K.I.D.S./FASHION DELIVERS, Inc.:
K.I.D.S./Fashion Delivers, Inc. is the charity of choice for new product donations made by hundreds of companies in the fashion, home and children's industries. Donating new merchandise provides these companies with a simple and effective way to help people in need. Founded 30 years ago, K.I.D.S./Fashion Delivers is a 501(c)(3) nonprofit organization that unites retailers, manufacturers, foundations and individuals to support people affected by poverty and tragedy. K.I.D.S./Fashion Delivers is an extremely efficient charity, with more than 97% of revenue dedicated to its charitable program of distributing apparel, accessories, shoes, home furnishings, toys, books and other useful items. Since 1985, over $1.2 billion of donated products have been distributed through our network of community partners, serving the poor and disadvantaged worldwide. http://www.donateproduct.com
About Proskauer:
Our clients include many of the world's top companies, financial institutions, investment funds, not-for-profit institutions, governmental entities and other organizations across industries and borders. We also represent individuals in transactions and other matters. In addition to New York, we have offices in Beijing, Boston, Chicago, Hong Kong, London, Los Angeles, Paris, São Paulo and Washington, D.C., as well as Boca Raton, Newark and New Orleans. http://www.proskauer.com
About TD Bank:
TD Bank, America's Most Convenient Bank®, is one of the 10 largest banks in the U.S., with approximately 26,000 employees and deep roots in the community dating back more than 150 years. The Bank offers a broad array of retail, small business and commercial banking products and services to more than 8.5 million customers through its extensive network of approximately 1,300 convenient locations throughout the Northeast, Mid-Atlantic, Metro D.C., the Carolinas and Florida. http://www.tdbank.com
About Viacom:
Viacom is home to the world's premier entertainment brands that connect with audiences through compelling content across television, motion picture, online and mobile platforms in over 160 countries and territories. With media networks reaching approximately 700 million global subscribers, Viacom's leading brands include MTV, VH1, CMT, Logo, BET, CENTRIC, Nickelodeon, Nick Jr., TeenNick, Nicktoons, Nick at Nite, COMEDY CENTRAL, TV Land, SPIKE, Tr3s, Paramount Channel and VIVA.http://www.viacom.com