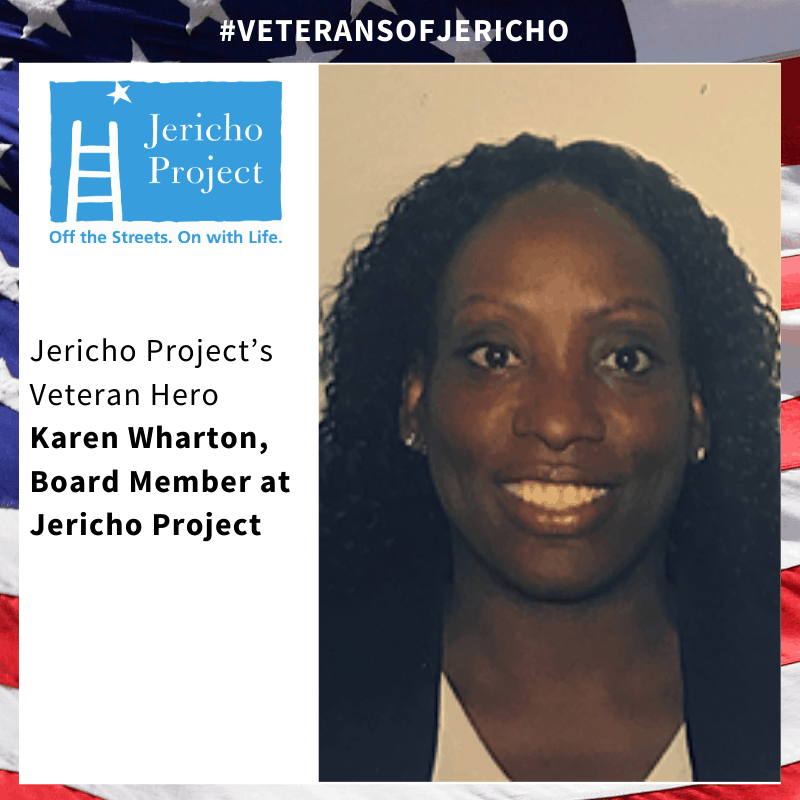 Dear Friend,
As I look ahead towards Veteran's Day this year, I can't help but reflect on the sacrifices made by so many remarkable people – both in the past by the Veterans who served our country so bravely and just in this last year by the Veterans who work for Jericho Project. In light of all of the challenges we have faced as a City and as a country this year, I can't quite remember a time during my 25-year tenure when I was as filled with gratitude and respect for my colleagues as I am now. At Jericho Project, we have always prided ourselves on the quality of services provided to our Veterans, but perhaps equally – if not more – impressive are the Veterans in our organization who have made it their life's work to give back to their fellow brothers and sisters in arms. Karen Wharton, a Jericho Project Board Member, former client and an accomplished healthcare expert, is one of those people who embodies what it means to be both a Veteran and a part of the Jericho Project family.
"We must support nonprofit groups like Jericho Project, whose mission is ending veteran homelessness because it is not only a calling but it is a duty." says Karen Wharton.
When Karen, who joined Jericho Project's Board of Directors this year, entered the U.S. Air Force in 2011, she had already contributed deeply to her community. Arriving in New York from Trinidad when she was 19, she acquired a nursing degree and became a neonatal care nurse at New York-Presbyterian/Columbia. When she was volunteering at the Red Cross, she was part of the heroic team in the Miracle on the Hudson. In the service she was a Captain stationed in San Antonio, Texas, and also trained in anti-terrorism in Tel Aviv.
But fate – specifically Super Storm Sandy – dealt her a cruel blow by flooding her home while she was away serving her country without her knowledge. When she returned to New York, the deadline for relief had passed and her house was uninhabitable. She was not eligible for HUD-VASH vouchers since technically she still had a home.
Jericho provided a turning point. One day after leaving a dispiriting meeting in the Bronx, she looked up and saw the mural of the Five Armed Services at our Kingsbridge Terrace Veterans Residence and moved in shortly after. While residing there, she became a vibrant part of the community and a persuasive advocate for Veterans' housing and minimum wages before state legislators.
Since then she has held numerous leadership roles in healthcare – currently as Administrator on Duty and Assistant Director of Nursing at Metropolitan Hospital Center in New York. She earned her M.P.A. in Emergency Management, from Metropolitan College of New York (Summa Cum Laude), an M.A. in International Relations Security and Intelligence from Webster University Athens, Greece (GPA 3.98), and is now pursuing her Education Doctorate at St John Fisher College's Executive Leadership program.
Her goal for the program is to develop and apply her critical thinking skills to social justice issues like ending homelessness. We need your help to continue supporting and investing in Veterans like Karen and to further our collective mission to end homelessness
As a supporter of our work and of our armed forces, I am sure that, you, like me, feel thankful Jericho Project is able to provide permanent housing and essential social services to our Veterans.
If you value the services we provide to Veterans – services that not only save you tax dollars and save the city's resources, but more importantly, enable people like Karen to keep giving back to the veteran community – please donate here or text "jerichovets" to 44-321. Your support, no matter the size, really makes a difference.
From all of us at Jericho Project, thank you for your support and compassion. It's needed now more than ever.
With Warm Regards,
Tori Lyon, CEO