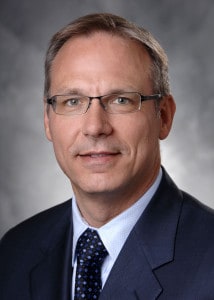 Mark S. Kopinski, Chief Investment Officer, Senior Vice President and Senior Portfolio Manager for American Century Investments, has been elected President of the Board of Directors at the Jericho Project, a nationally-acclaimed nonprofit celebrating 30 years of ending homelessness at its roots.
Kopinski brings to this role a passion for Jericho's mission of enabling transformational change and outstanding management and financial acumen. He has been a member of the Jericho Board of Directors since 2008.
At American Century Investments, a premier investment manager, Kopinski oversees the teams that manage the company's global and non-U.S. equity portfolios. He also serves as senior portfolio manager of the American Century International Discovery and International Opportunities portfolios. He is a member of the Investment Oversight Committee, Products & Markets Committee and the Investment Management Senior Leadership Team.
"Jericho Project is honored to have an executive of Mark Kopinski's global breadth and accomplishment. He will provide valuable leadership as we pursue our course for continued financial stability, growth and impact," said Tori Lyon, Executive Director at Jericho Project.
Ian C. Devine, who has led the Board as President through a decade of Jericho's strategic and significant expansion, said, "Mark represents a blend of emotional commitment and intellectual achievement that will guide Jericho well in the years ahead. He is an ideal leader to advance Jericho's mission." Devine will continue to serve on the Board.
Jericho Project ends homelessness at its roots by creating a community that inspires individual change, fosters sustainable independence and motivates men and women to reach their greatest potential.
"We are grateful to Ian Devine for having the vision to see that Jericho could blossom from a local nonprofit serving 250 individuals into a best-practices organization changing the lives of 1,000 individuals and families, including veterans," Lyon added. "Crucially, he has enabled Jericho to build a strong fiscal model and board, and engage the dynamic compassion of New York's financial, legal and real estate communities."
Currently serving individuals and families in seven residences and supportive apartments, Jericho's results-based programs touch the cornerstones of its residents' lives – housing, employment, wellness and family stability.
Jericho's Veteran's Initiative, delivering these state of-the-art services to 300 veterans through two LEED-certified communities in the Bronx and supportive apartments, is the first of its kind in New York City in 20 years.
Kopinski has a history of leading organizational expansion and establishing lasting success.
Working for American Century Investments since 1990, he helped develop and establish American Century's International Growth, International Discovery and Emerging Markets portfolios.
His global perspective was established early in his career. Prior to 1990, he held positions in Tokyo, including senior analyst for Salomon Brothers. He holds a bachelor's degree in business administration from Monmouth College and a master's degree in Asian studies concentrating on Japan from the University of Illinois. He is fluent in Japanese.