Walk with Pride Event 2020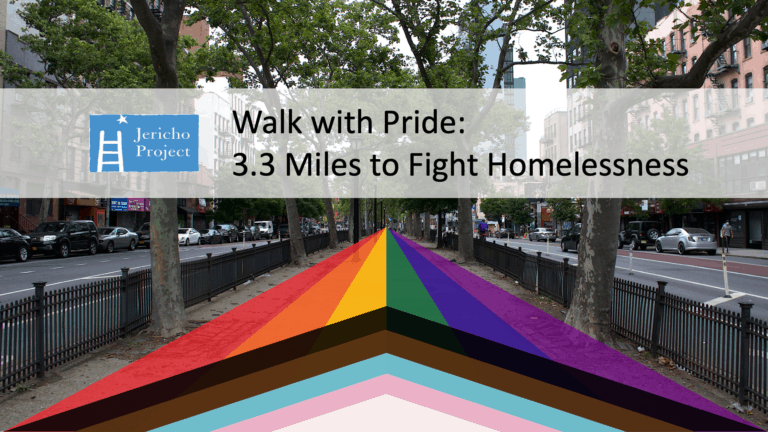 With 2020 marking the 50th year anniversary of the NYC Pride March, we continued that legacy of stepping up, stepping out, and walking with pride. While much of the globe was still sheltering in place in response to COVID-19, Jericho Project continued to provide the much needed shelter for many of New York City's homeless. With over 30 years of success providing supportive housing to families and veterans, Jericho Project is continuing their mission to end homelessness at its roots by providing dedicated supportive housing to homeless young adults (ages 18-24).
During this years Pride Month, on June 27th, we walked/ran/cycled 3.3 miles in honor of the 33 young adult residents of Jericho Project's Walton House. They represent a sample of the US homeless youth population, a disproportionate number of whom identify as LGBTQ+ and/or POC.
Studies show LGBTQ+ youth are at 120% higher risk for homelessness compared to their heterosexual and cisgender peers, and also face many extreme sources of stress including fear of rejection from family and their community, bullying, and threats. This is especially true of youth of color, particularly Black LGBTQ+ youth who also face racial discrimination in conjunction. Black youth are also at 83% higher risk of homelessness compared to other young adults.
In these times, mental health services are more critical than ever.
Our goal was to raise $3,300 to build a "teleheath" suite at Walton House to provide its residents with a much needed space equipped to enable them to receive the mental health care they need, in the safety of their own residence.
Check out our progress/donate here and view pictures from our participants on social media!